Since 2010, The first Chinese company, Shenzhen New World Group, acquired two hotels in a year, the Los Angeles Marriott Hotel and Sheraton Universal Studios in Los Angeles, recently came the surprising news: the international boarding high school (AUP) funded by the same group will have the first cohort of graduates. 11 out of the 12 students applied and got accepted into 48 colleges and universities in the United States. Two of them were admitted to Stanford, one was accepted by both of Stanford and MIT.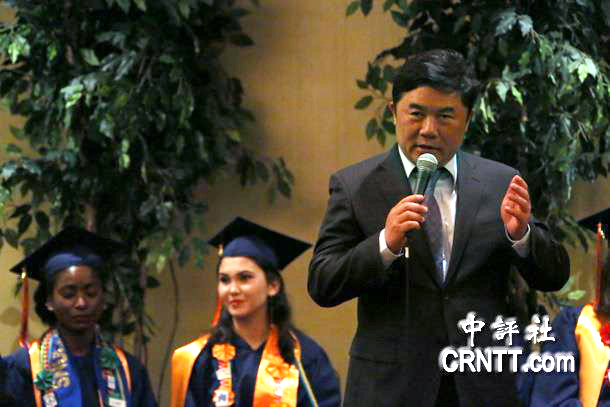 Other college acceptances are : Columbia University, University of California, Berkeley, University of California, San Diego, Eastman School of Music, Oxford, University of Pennsylvania, Purdue University, Rice University , University of Southern California (2) and other 48 well-known university admission.
AUP currently has 50 students from grades 9 to 12. Approximately half the students are from the United States and the other are from all over the world including areas such as Africa and the Middle East. Few students actually came from the war zone in Afghanistan. "They are very good students and were provided with scholarship."
Regarding how to build a good school in the United States, the important thing is to recruit quality and motivated students. Shenzhen New World Group emphasised on hiring a renowned principal who is the core and drive of the school. Because the head of school and his team are on their own mission and responsibility of the sober cognition, The management of a school's persistent pursuit of inseparable, so visible, a good head of school will be able to lead a good education team,
Today, the matriculation of the first cohort of AUP graduates reflect the point.
Before Dr. Woods joined the AUP School, Dr. Woods was the Superintendent for Beverly Hills school district and for San Marino school district. When working in public schools, Dr. Woods has supervised more than 5,000 school principals and over 5,000 faculty members, and the number of students in those school districts has exceeded 36,000. Dr. Woods said he felt it was a challenge after serving at the international boarding school - and now he was offered education and services 24 hours a day, 7 days a week.
"Public schools are rules and regulations, and they must comply with rules and regulations because they want to provide educational services to thousands of students at the same time." Dr. Woods says that teaching is very personalised in a such a small private setting, which tailored to each individual's needs. Dr. Woods believes that in a small private school he can promote the education reform.
The final goal of the Los Angeles Center's preparation for high school is to foster world leaders, and there are a wide range of criteria for enrollment, but the international student's TOEFL score must meet more than 70 points and his school does not offer English tutorials. Shenzhen New World Group entrusted the school to the principal, the enterprise rarely asked about the management of things, mainly worried that "ask much more will bring the 'dust', the school is a clean place.
Abena Buadi-Agyemang, a 19-year-old female graduate from Botswana, an eastern African country, has been admitted to this year and has been enrolled in Stanford University, where she will study engineering and education. She said enthusiastically that the AUP and the teachers provided her with great help, she did not think she was able to go to Stanford when she was enrolled at AUP but now her dream comes true, her hard work and efforts finally have a return, for which she is thankful for every teacher in the school. Didun Ayodegy, a graduate of Nigeria from West African country, was admitted to the University of Southern California this year, which was his first choice on his list. He thanked the school and those who were passionate about the teaching work.
Millenn Mong, a Vietnamese American student from San Francisco said she was studying at a public school with more than 6,000 students and more than 90 percent of them were Asian American. When she came to AUP, instantly felt the private school curriculum was very special. She enjoyed the diversity of student groups, as well as the international atmosphere of the school. Austen Van-Der-Byl, a student from South Africa, and Preetam Mamillapalli, a local student from LA, say the strict rules and boundaries are implemented. Students are provided with meals at the school cafeteria, 10 pm is the time for lights out at the domortarity.
Funded Afghan girls to study in the United States
Futina and his brother from Kabul, Afghanistan, who are studying at the center of Los Angeles are enjoying the scholarships offered by the school. Fatah is the first woman in the history of her family to go abroad to educate, for which her father was under great pressure. Fatih said she would go to American colleges after graduating from international boarding school law, she likes the law, and more importantly, she can use the law to help women in Afghanistan, to enhance their social status.
Fernando said that in many cities in Afghanistan, about 80% of women are uneducated or have not received formal education. "More important is to help them understand the power of life, the vast majority of women do not know this." Fatah said that since the US military into Afghanistan, the two countries have become increasingly close to the legal system, this After reading the law in the United States can play a role.
Fatah wearing a popular costume in Los Angeles, but also hot hair, do not see from a country is still caught in the war. She said that in Los Angeles she was wearing a scarf that was her own choice, but in Kabul she had to wear a scarf. The 12-year high school student said: "If the Islamic countries, or Al Qaeda people know that I will kill me abroad." To a certain extent, Fatah is risking life in Los Angeles.
Fatih's brother and sister in the same high school read high school, he hoped to read Harvard later, to become an entrepreneur, founder of his own green energy business - green energy in Afghanistan is 100% new thing. He said that his sister can go abroad to study is a great courage, the father also bear great pressure.
He said that the current inhabitants of Afghanistan are still at risk of war, and in March last year he lost his best friend, and the militants of the Islamic countries blew up his car.
Teachers teaching autonomy strong: I am a textbook
Gary Woods, a senior high school head of the Los Angeles Center, says his school is not a century-old and has no ivy covered with walls, but his school is extremely modern and teachers and students do not have to stick to the existing education system. For this reason, teachers and students of international boarding schools can fully enjoy academic freedom.
Mathematical teacher Eric Strom says he is responsible for all the math courses in the school, and his teaching is unconventional. "I'm a textbook."
The math teacher writes math questions on the blackboard in class, but never gives the students a mathematical formula that is readily available, but allows them to calculate their own to arrive at the right answer. Stoic in the classroom pay more attention to how students to solve the problem, and why use this or that method to solve the problem. "Not all students like math, but it 's a compulsory course and can not get into college.
Gina Lee says she wants her students to learn more about herself through her teaching, which is not easy for the average high school student. Many student culture class excellent results, all A, but they do not know their own. The Korean academic counselor said: "Only fully aware of their own, it is possible to grasp the future direction of development."